Unagi is an U.S. based brand that saw the demand and need for electric scooters in the market. Unagi covers over 30 million Americans and is now expanding to Australia.
The Unagi scooter holds no secrets. These e-scooters were designed to offer maximum durability with structural integrity with a minimalist's dream aesthetic. Unagi was labelled by TechCrunch as the "iPhone of scooters". Unagi's goal is to make premium electric scooters accessible to the greater market.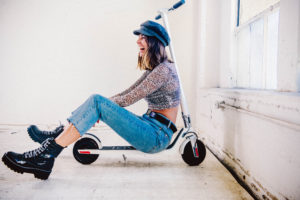 Unagi's model one is a luxury e-scooter built from machined magnesium carbon fibre with embedded silicone. The electric scooter folds in a quick one touch of a button.
The stylish electric scooter for adults is extremely lightweight despite being super powerful, weighing in at only 12kg. The scooter has three driving modes: Eco (14-18 km/h), Standard (18-21km/h), and Professional (24-25 km/h). The lithium-ion battery allows for a range of up to 25 kilometres making it a perfect mode of transport for going to the shops, university, work and school.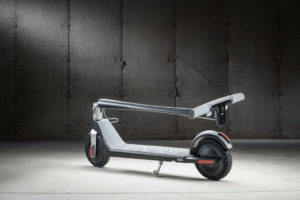 Unagi provides a fun, easier and cheaper way to get around. Unagi's scooters are guaranteed to save you time and enjoy some fresh air. Unagi's mission is to ensure people feel free from costs, inconveniences, and carbon emissions.
Here are the specs of the Unagi Model One E500 Dual Motor:
| | |
| --- | --- |
| | |
| Weight (kg) | 12 |
| Max Load (kg) | 124 |
| Dimensions (cm) | 96x42x110 |
| Motor Power (W) | 250 |
| Max Speed (km/h) | 25 |
| Charging Time | 4-5 hours |
| Braking Distance (m) | 4 |
| Battery Capacity | 9000mah |
| Travel Distance (km) | 25 |
| Material | Aluminium + Carbon Fibre |
| Incline rate | 26 degrees |
| Water Resistant Level | IP54 |
Unagi Scooter Model One E500
The Model One E500 is designed for people who want to keep it light and easy. This scooter is sleek and lightweight whilst also being elegant. The Model One E500 showcases an innovative design with advanced engineering techniques and only weighs 12kg, making it easy to carry. The zero-emission scooter can ride up to 25km and has three different riding modes. This e-scooter can ride up hills with an incline of 15 degrees. It also features LED headlights for ultimate safety.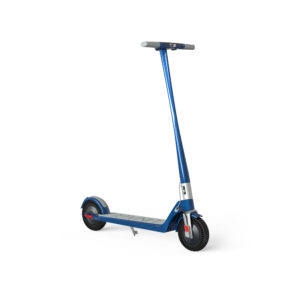 Conclusion
Unagi is a brand that delivers premium quality electric scooters with an aesthetic design. We know that you will love this chic luxury electric scooter.
If you need further assistance, please do not hesitate to contact us.
The Panmi showroom is in Chippendale, Sydney where you can set up an appointment and experience these Kickscooters first-hand.
Panmi provides 12 month warranty on all Unagi e-scooters.
Product Mentioned:
About Unagi
Technology has made it infinitely easier to communicate and far more difficult to connect—with the people, places, and experiences that mean the most to us. Unagi helps bridge that divide by bringing all the things you want be close to, a little bit easier, cheaper, and way more fun to get to. Your office, your lecture hall, that new Ramen place, the friend you're dying to take to the new Ramen place.
We tried subways and Ubers, electric bikes and bike shares and even a skateboard. We sat in traffic, missed critical meetings, got grease on our pants and dirty looks when we lugged our bikes on the subway. We paid crazy parking fees (and fines) and pulled our hair out waiting at empty bike stations. We liked the scooter shares. All that time saved. All that fresh air. But they just always let us down. They weren't there when we needed them or weren't charged and weren't powerful enough when they were. In the end, maybe we don't like to share. And now, we don't have to.
First, we designed the finest electric scooter on earth. Our mission is freedom. We are hellbent on liberating people from the tyranny of transportation frustrations—the costs, inconveniences, the carbon emissions. So we built the ideal personal liberation device.
Then we figured out how to make it affordable. Our approach is direct-to-consumer, which allows us to put an Unagi scooter in the hands of everyone who could use one. Our financing options make that even easier, meaning you can cruise away in a brand-new Unagi for the price of a daily oat-milk latte.
About Panmi PTY LTD
Panmi is an Australian founded company, established in 2018.  We are the sole brand agent and business development partner of Xiaomi in Australia as well as other innovative tech brands from around the globe.  Panmi's vision is to bring new and exciting technology with uncompromising quality and performance to Australian consumers, helping Australians to enjoy advanced technology in their daily lives.
Panmi is the exclusive distributor of major tech brands in Australia including Xiaomi, Segway-Ninebot, Viomi, Unagi, Surron and many more. Panmi's expertise is in micro-mobility and personal transport, Smart Home, Smartphone and various other categories.
Panmi will revolutionise consumers' expectations – in addition, ensuring compliance with Australian Standards for all products introduced to the Australian market.
For more information visit: www.panmi.com.au